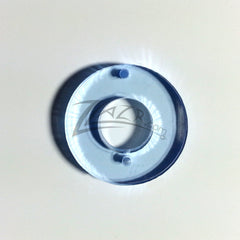 UPGRADE - Washer 2 WIRE Holes Only - Standard Pattern!
WASHER Upgrade - Wire Holes!
Get 2 extra drilled holes: (2) Standard "Wire Holes" added to the included CENTER hole - This is a wire hole charge only, no washer in this listing.  You can add 2 extra laser drilled holes per washer from 1 hole up to 100 holes per set maximum of 100 washers.  Extra color sets or partial color set will each require extra wire hole upgrade charges.  This listing is for a wire hole pattern just like the photo.
If you want a different pattern we can do a custom order for a one time $25.00 Setup Fee.
Can be used for Tattoo Machine!
Click on "Upgrades" to see all available in stock colors.
CUSTOM LASERING: Contact us if you have any special CUSTOM requests. We are a custom shop and can custom make any shape or size. We can even do different thicknesses (prices vary & material thicknesses are nominal).  We can laser drill holes in any size!
*We can add laser text, images or logos on one or both sides for a additional small fee.
Designed and manufactured in the

USA

. Made partly from combination of recycled or repurposed materials.