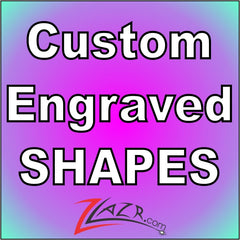 TEXT - Custom Engraved Shape Fees
Custom Laser Engraving TEXT!
We can custom laser engrave any of our pieces!
NOTE: No returns, exchanges or credits on any custom order.
*Note: An additional custom setup fee will need to be added to your cart with this item.*
All of our pieces come plain and if you would like them customized or personalized we can do that.  If you have a custom or special order request please email us the text or even artwork (artwork has additional charges).  
We have an additional $25.00 Setup fee for text only (one time only on your first order).  *If you do not change it on your next order, then you will not have to pay the setup again for up to 1 year after your last order.  If it is not a basic custom text request other fees may apply.
***No refunds on Custom or Special orders.***
1. This allows a small area of the pieces to be laser engraved).
2. We can also do FULL circles/shapes to be laser engraved (charge is next size up).
*Note: We can make more letters fit, but we will have to make the font size smaller to fit!