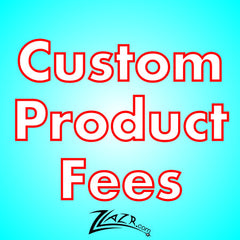 Custom Product Fees
Custom Product Fees
We can send you a quote for your custom order.
If you have a custom or special order request that is not on our web site already.  You send us an email with your order and then after you get a quote you can now buy it here.
***No refunds on Custom or Special orders.***
1. If we sent you a design setup fee, please do not forget to add it from the "Custom Setup Fee" listing.
2. Just pick the dollar amount we quoted you in the email and add the total to your shopping cart.
3. Finally, add the custom shipping price here.
4. If you want something smaller than 2", you can pick the $3.35 "sample piece" selection below and we can send you the thickness or color, but it may not be the diameter you requested.  This is meant to send you a small piece of the acrylic to get an idea of the acrylic thickness or cut edge, etc.  Some pieces are just error pieces.  It is not meant to buy big items we already sell individually.  We sell the specific diameters on the site in other listings. If you want a sample up to 3", then you can pick the $3.99 sample listing.
5. Special Stacking Packaging Fee: $5.00/box.  Sometimes we can pack more in a smaller box or to help with minimizing surface scratching instead on just bagging them, we can hand stack your order in a box for a small additional fee.
6. $5.00 Special STACK Packing - per 500 pieces.  We can do a special packing and handling. We normally have good normal packing for all our items.  However, if you need extra special packing, sorting or any special request for your items, we can do that.  Let us know what special care you need and we will take care of you.